UKIP'S NIGHT OF THE LONG KNIVES by Robert Edwards.
Published in ESA No 56, Spring 2015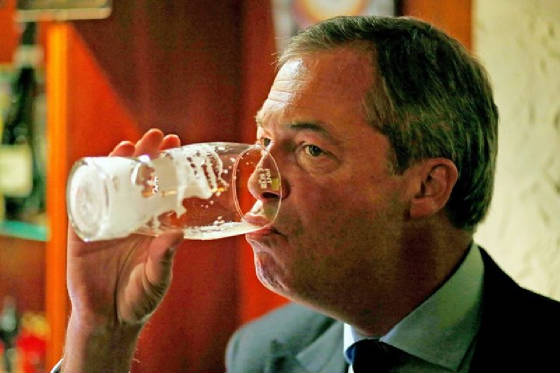 Why anyone should want to support Nigel Farage is beyond my comprehension. Why anyone should wish to elevate him to the position of a demi-god is even more incredible. Yet some do.
He tried to con a lot of people, offering to get us out of our troubles and lead us to the Promised Land. All you had to do is vote Ukip and say no to Europe.
His performance as a member of the European Parliament is a disgrace. One of the lowest and thus worst attendance rates among MEPs with rare speeches tinged with acidic abuse and sarcasm.
For a man whose entire raison d'être is to oppose the union of Europe, his membership of the European parliament would seem the most inappropriate place to do it.
Who would allow anyone to join their club for the sole purpose of destroying it while doing very well out of it, including a handsome salary for his wife? He lied on a TV documentary saying his wife was paid nothing out of the public purse.
For membership of any democratically elected parliament, an oath of allegiance would be an essential prerequisite. A failure to do so would exclude any individual. It would also follow that anyone espousing anti-democratic views should be excluded from the democratic process.
If your car breaks down, you do not hire someone to go under the bonnet to tear out the gubbins. No, you want someone who is going to get it going again in good working order.
We in European Action are, of course, totally committed Europeans and socialists. It is for this reason we oppose Farage and his reactionary far right band of globalist free traders. We want Europe unified under a single European government.
Nigel Farage is, of course, purely a creation of the mainstream media and not entirely in the public mind through personal merit and effort alone.
His ideas are invented and re-invented according to both personal whim and the opportunist's wet forefinger put to the breeze. He is not a conviction politician but relies almost entirely on a crude populism.
His dismissal of political correctness is a means of appearing naughty and somewhat outrageous.
It all started in the early days of Ukip. Professor Alan Sked was a founding member and now totally opposed to the xenophobic party. According to Sked, Farage opined that "We should forget the nig-nogs. We'll never get the nigger vote".
Sked was to later warn others of the fundamental racist nature of Ukip and the people leading it.
It was much later that Ukip was to adopt a rule that said former members of far right parties (NF, BNP, etc) were henceforth barred from membership. The purpose behind the rule was to convince the public that Ukip is not racist. Pull the other one, Nigel.
In 2004, a former NF branch organiser was exposed with due consideration for this rule. If the rule had not existed, no one would have said a word. After all, when this former NF branch organiser was previously an office-holding member of the local Tories, others remained silent. There were no such proscriptions then with the Tories. You could be a former member of the SS, for all they cared.
No, it was the hypocrisy and double standards of Farage and Ukip that were revealed. He even explained to the local Thanet press when challenged that he "made an exception in this case".
With Farage, rules are for bending and, at the worst, broken. The aforementioned former NF organiser was Farage's election agent in Thanet South in 2005, to become his election manager quite recently.
Which brings us to the current internal farce surrounding Farage's promise to resign, if and when he failed to gain the parliamentary seat of Thanet South. His word is not worth the dregs at the bottom of his empty beer glass, as it turned out.
He wears the garb of a spiv. The Minders' "Arfur" Daley overcoat with the velvet collar was made for the man in more than one sense. A former City trader, his morals are little different to those of his alter-ego in a Shepherds Bush second-hand car lot. Farage would not have looked out of place in the ITV series' Winchester Club, a glass permanently in his hand. The City slicker as wide boy.
One of his advisers, Raheem Kassam, mimicked his leader by wearing a similarly velvet collared coat when out and about with him. Some said it was worn in mockery and not in flattery. Kassam has since departed.
When a Ukip aide, Patrick O'Flynn, attacked Farage for becoming "a snarling, thin-skinned, aggressive man", he missed out a few other negative personality traits. They are "incurable alcoholic", "greed for money" and "un-Christian" to be thrown into the arena. He is now a complete parody of himself.
In other words, Farage's weaknesses have now been exposed for all to see and can no longer be hidden behind the superficial and fake guffawing response to everyone he meets, the pint in one hand and a fag in the other. Acting out the role of a 'man of the people'.
If you needed just one episode to illustrate all this then look at a YouTube video of Farage at the count in Thanet South. The thought of resigning must have been woefully considered then so he planned his way out of that. He sat with his NEC and contrived an impromptu popularity contest and won unanimously ... for now!
Some very strange people declared their support for Ukip rather scotching Nigel Farage's attempts to distance himself from racism.
The Islamophobic English Defence League and its erstwhile gobby leader, Tommy Robinson, declared for the anti-Europe party in the elections.
The League of St George under the direction of Dagenham security officer, John Harrison, urged his dwindling band of admirers to vote Ukip. This is the same League of St George that claimed it supports Oswald Mosley's ideas on European unity, including European government.
One of the founders of the New Right club tells me he was contemplating voting Ukip and later stated that it was definitely now his intention. I think he was a bit embarrassed, since I told him only two types of people vote Ukip ... the ill-informed and the other being idiots. Take your pick.
In South Thanet, three former members of the far right walked into the Ukip campaign office in Ramsgate and were given large purple Ukip rosettes to wear. The man who handed out the rosettes was Farage's election manager, Martyn Heale, a former National Front branch organiser. They must have all felt at home in each other's company at that point.
The three "patriots" then went out onto the streets to spread the message by declaring 'no to the European Union'. One of their first ports of call was the campaign offices of the Labour candidate staffed by an elderly lady. Witnesses heard them shouting abuse and swearing at her. A photo was taken of them walking away from the Labour offices up another street. All three were positively identified. This photo went out on Twitter and others tweeted these were the same people who had accosted other Labour canvassers in a threatening and abusive manner. Eventually, one Labour activist on Twitter produced a police crime report number related to these incidents, clearly serious infringements of the Representation of the Peoples Act. These three "patriots" are a thundering disgrace.
I am relating this particular episode in Ramsgate to demonstrate that European Action does not regard workers from Eastern Europe as "foreign". All Europeans are brothers and sisters. Ukip does not share this world view and those who support Ukip in any way are fundamentally xenophobic. It has not surprised me that the far right looks on Ukip favourably. All nationalists are inward-looking and potentially hostile to neighbouring countries. We do not want British nationalists in our ranks because they have never understood the true message of Oswald Mosley - 'Europe unite as one people!'