New British Union national conference in Milton Keynes, 2013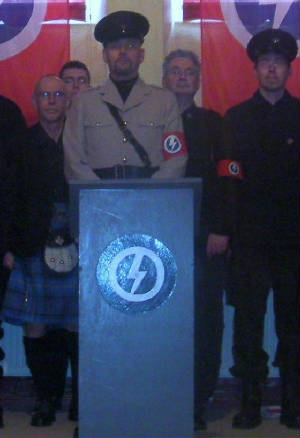 Patients on day release from a local Mental Health Unit seem to have enjoyed dressing up for Gary Raikes' much trumpeted
Phoenix Day
event on October 5th. Yes, folks, the Blackshirts are back and are on the march again. All behind closed doors, of course.
Gary dressed himself up in his Führer tunic along with Sam Browne belt in order that he stood out amidst his massed fascist legions. All that was missing was the Iron Cross first class and a wound badge on his left breast. New British Union has triumphed!
We learned Gary was later given his medication and was then locked in his room where he spent the rest of the evening sucking on his thumb.
All those attending were described as "NBU officers". There they are, looking for all the world like extras from the film One Flew Over The Cuckoo's Nest.
If you have ever watched the low budget film from the early 1960s, It Happened Here, you will have caught some of the atmosphere of this meeting. Uniforms can do strange things to a certain type of person. A uniform can not only transform them but it can also empower them. In the above picture, Gary positively exudes power in that oh so familiar pose with regulation clasping of hands over genitalia. One is left wondering if he is wearing highly polished jackboots behind the make-shift podium but that is left to the imagination. Not another kilt, we trust. In fact, this event left far more to the imagination than to any connection to reality.
This was not Olympia nor the Albert Hall and it was hardly a Blackshirt revival in any real meaning of the phrase. It was a deluded West Country bumpkin playing silly beggars again. ■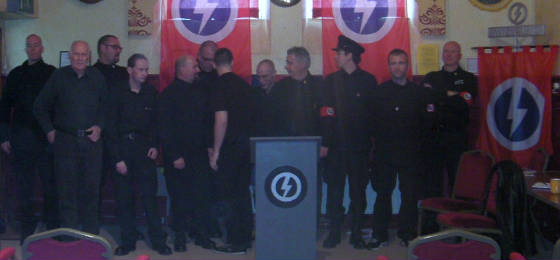 Where's the Leader ... someone's lost him