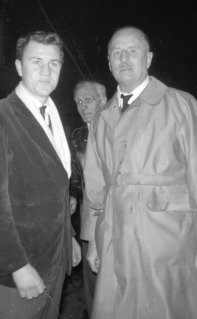 pictured right: Roger Clare with Sir Oswald Mosley in Electric Avenue, Brixton, South London, 1963

In Memoriam
Roger Clare (1942-2016)
Former Union Movement member Roger Clare died peacefully at his home in Southwood Road in Ramsgate, Kent, on Friday, January 29th, after suffering, for some time, from an aneurism in the brain that eventually burst. He was 73. He was discovered dead on the following Monday morning, sitting on his couch in a restful position. His friends had expected to meet him over the weekend but he had not turned up.
Roger joined Mosley's Union Movement as a teenager and was an active member. In the early 1960s, he held dual membership of John Bean's British National Party. A keen movie maker, he made several recordings of Mosley meetings and far right demonstrations. Created on 8mm film, they were later transcribed onto DVD. He attended the annual Diksmuide parades in Flanders where far right groups from around the world gathered. Hosted by the Vlaamse Militant Orden, Roger was an honoured guest of a VMO leader, Roger Spinnewijn and his family. He was a frequent visitor to their farmhouse in Loppem, West Flanders. He made several cinematic recordings of these VMO parades, to be included in his 'home movies'.
A Londoner, he moved to Ramsgate around 1990 after his wife Jo died of cancer after a brief marriage. (The ferry from Port Ramsgate being a close link to Oostende and the Flemish nationalists) They had no children.
Described by UM Organising Secretary, Keith Gibson, as an "exuberant extrovert", Roger brought humour into any gathering of Union Movement members in the old days. His late friend, Chris Parry, dubbed him the 'Jolly Roger' for that irrepressible urge to raise a laugh whenever and wherever he was. He was ill for a long time up to his death. He leaves a sister in Herne Bay.
Rest in peace
copyright Robert Edwards 2016
European Socialist Action No 58