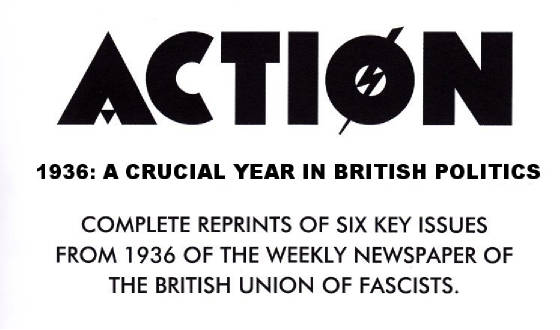 ACTION 1936 A CRUCIAL YEAR IN BRITISH POLITICS
Complete reprints of six key issues from 1936 of the
weekly newspaper of the British Union of Fascists
RRP £19.99
Our price: £9.99 plus £2.60 postage
That's £10 off!

| | |
| --- | --- |
| | Payment here for one copy of ACTION 1936 book in UK only. Total price: £12.59 including postage. Credit and debit cards accepted as a guest of PayPal. |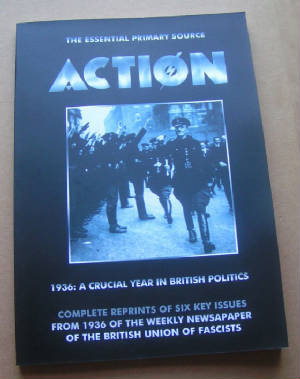 This is a large format (A4) soft back book running to 108 pages and published by Coda Books Ltd, renowned for the publishing of other large format facsimile editions.There are six full paged editions of the pre-war ACTION newspaper, published by Oswald Mosley's British Union of Fascists in the 1930s, all of them very clear and as new.
Each issue runs to sixteen full pages, packed with news and features, film and stage reviews ... many photos and cartoons. There are regular columns written by A. Raven Thomson, William Joyce (Searchlight Over Britain), A.K. Chesterton, E.D. Randall, John Emery, John Beckett, R. Gordon-Canning, J.A. MacNab and several others. Read the hard-hitting "The World, The Flesh - and Financial Democracy" column by William Joyce. There are sports pages, book reviews and women's pages. Many have commented that the issues tackled by ACTION in those days are as relevant today ... especially the financial and economic problems. This comes across quite clearly. Sent to you in a protective large padded jiffy bag, each copy of ACTION 1936: A Crucial Year in British Politics, is completely new, unmarked and unread.