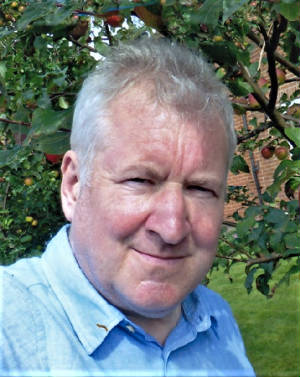 John Roberts
A Brief Introduction
from John Roberts
I was born in Hunslet, Leeds 10, on February 23rd 1957. This was, of course, the same year the Soviets sent a Moscow street dog, Laika, into orbit. Also the year when Britain exploded its first hydrogen bomb over Christmas Island in the sunny Pacific.
I've never been particularly academic but I am a voracious reader and could call myself basically self-taught, an auto-didact. I have painted over the years, enjoying some success at regional art shows. Contact with Robert Edwards in 2005 opened up writing possibilities in a way I could never imagine. It is great to be able to write what you think without censorship.
My career path has been varied. Since 1998 I have worked in a secondary school. Before then, a further education college library and, before then, a British Rail Secondman and train driver (hours-horrendous; however, no experience in life is invalid).
I've had numerous letters published in newspapers over the years, my initial foray was a letter I was fortunate enough to have published in The London Times in July 1971. A protest, really, about a proposal to build a road through our school playing fields; they ended up tunnelling the road to cut the noise but the school was demolished 15 years ago! It was only built in1960.
I am a Roman Catholic in faith.
Music is an abiding passion, in particular the works of Edward Elgar, Ralph Vaughan Williams, Jean Sibelius, Francis Poulenc, Eric Satie and the lesser known English composers of the Great War period like George Butterworth and Frank Bridge.
John Roberts
August 2017
_______________________________________________________________________________
Who does he think he's kidding?
West Tyrone MP Barry McElduff posted a video of himself on Twitter, showing himself fooling around, displaying a loaf of Kingsmill branded bread above his head. He did this on the anniversary of what became known as the Kingsmill massacre in January 1976. A group of republican gunmen (The South Armagh Republican Action Force-but as a decorated ex-British Army soldier said to me recently (one who had served in Northern Ireland), whatever they call themselves; The Real or Continuity IRA, it is all the same IRA at the end of the day) stopped a van full of textile workmen on a country road and told them to get out. The one Catholic man was told to run. They then proceeded to machine-gun the Protestant workmen, killing them all except one, Barrie Halliday, a clergyman. 10 were murdered.
Outrage, understandably, was the reaction from Unionists. Aileen Foster called the video"inhuman and depraved".
Looking back, there always was a sick aspect to these people.
McElduff has since removed the video and apologised profusely. "It was all just an accident. I had not realised or imagined that there would be any possible link between the product branded name and the Kingsmill anniversary". Now, who is he trying to fool?
He is lying, of course. No Unionists, or anyone else, is buying his excuse. He also looks like he might have had a few when he filmed the video.
The inquest into the original atrocity is still ongoing in Belfast.
Apparenty, McElduff said, "Where does McCullaghs (the supermarket) keep the bread?" Perhaps, he ought to have asked, more to the point, where McElduff keeps his head.
John Roberts, January 8th 2018
Letter from John Roberts to The London Evening Standard
August 26, 2017
Date: 26/07/2017 11:22
To: <editor@standard.co.uk>
Subj: Northern Powerhouse et al
The Editor
The London Evening Standard.
Dear Sir,
It was interesting to see that Crossrail2 has been given the green light but various long-promised projects further afield, such as the electrification of the Midland and Trans-Pennine routes, are again to be put on hold. I'd be curious to read the editorial view of this.
I have a vivid memory (BBC News) of our former Chancellor sitting at a press meeting of the Northern Powerhouse held at The National Railway Museum at York. Ironically, they were all sitting directly in front of a Chinese steam locomotive, which spoke volumes. Every picture tells a story!?
Yours faithfully,
John Roberts
Wakefield
__________________________________________________________________________